VENENUM: INFERNO BOOK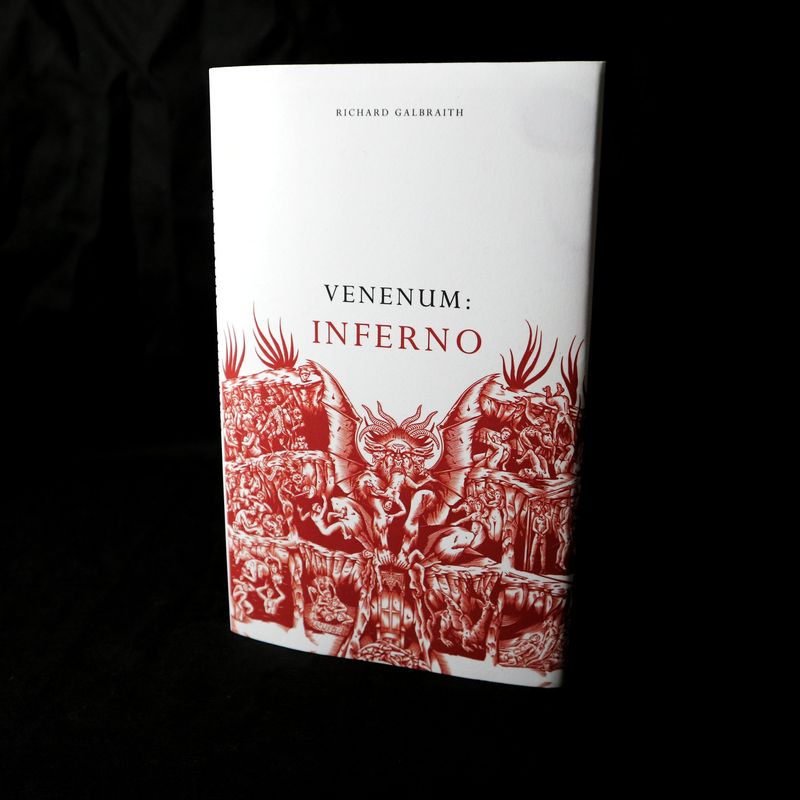 Venenum: Inferno - Book
Limited to 100 books.
Listen to the audio-book here (or on your prefered streaming platform): https://www.spreaker.com/show/venenum-inferno
KURTZ HAS FALLEN.
HE AW A KENS IN LIMBO, THE FIRST CIRCLE OF HELL, WITH NO UNDERSTANDING AS TO THE ENGINE OF HIS RUIN.
THERE, HE IS APPROACHED BY THE GREAT POET, VIRGIL, WHO TELLS HIM THERE IS ONLY ONE SOLUTION TO KURTZ'S MYSTERY: THEY MUST DESCEND INTO THIS MORBID WORLD AND ASK SATAN HIMS ELF.
ALONG THIS PATH, DOWN AND THROUGH THE CIRCLES OF HELL, BOUND BY A RIGHTEOUS MISSION, THEY WILL COME TO UNDERSTAND WHY KURTZ IS IN HELL, BUT THERE IS A DISTURBANCE IN THIS DOOMED PLACE.
ONLY WHEN THEY REACH THE DEEPEST PIT OF THE FINAL CIRCLE WILL THEY UNDERSTAND THE TRUE NATURE OF KURTZ'S DAMNATION.
VENENUM: INFERNO IS A COLLABO­RATIVE MEDIA PROJECT BETWEEN WRITER RICHARD GALBRAITH AND THE DANISH DEATH METAL BAND, BAEST. A MODERN REINTERPRETATION OF DANTE'S EPIC POEM, INFERNO, THE PROJECT SEEKS TO BRING TOGETHER THE WRITTEN WORD WITH THE CONCEPT FOR BAEST'S SECOND ALBUM, VENENUM.
RICHARD IS A SCIENCE FICTION WRITER EXISTENTIALIST HAILING FROM MAN­CHESTER, UK. HE HAS A PASSION FOR SHORT STORIES AND COLLABORA­TIVE MEDIA PROJECTS THAT HELP BRING THE WRITTEN WORD FURTHER TO LIFE THROUGH MUSIC AND ART.
BAEST, WHOSE MONIKER TRANSLATES TO 'BEAST' OR 'BRUTE' IN THE BAND'S NATIVE DANISH LANGUAGE, ARE A DEATH METAL BAND THAT HAVE A DEADLY, OLD-SCHOOL BACKBONE AND COMBINE A SHARP CREATIVE EDGE WITH INCREDI­BLE AND FEROCIOUS LIVE ENERGY.
249,00 kr DKK
WELCOME TO THE OFFICIAL BAEST MERCH STORE
We've just added completely new designs – feel free to check it out!